artec Armaturen- und Industrieservice GmbH
In-shop and Field service and repair for industrial valves
Since more than 25 years provide in-house evaluation and repair of all types and brands of actuators, including electric, pneumatic, and hydraulic operators.
We are also able to provide troubleshooting, preventative maintenance, and startup assistance on-site in our customer's facilities.
Passion for valves – for more than 25 years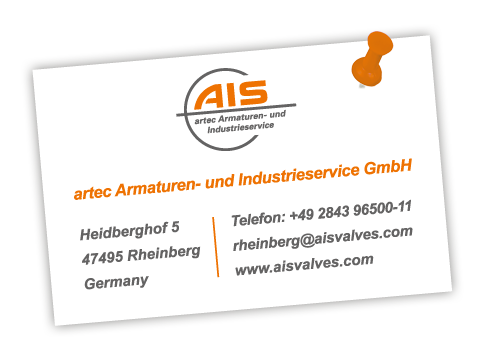 Personal data that you send us via the above contact form will only be used to answer your request and for the technical administration associated with this process. The transfer of data to third parties is not.
You have the right to revoke your consent to contact the effect for the future at any time. In this case, the personal data stored about you will be deleted immediately. After processing your request, the data will also be deleted immediately.
Further information on data protection and handling of personal data can be found in our privacy policy.
artec Armaturen und Industrieservice GmbH
artec Armaturen und Industrieservice GmbH

Heidberghof 5
47495 Rheinberg
Germany
Telefon: 03304 288-0
Telefax: 03304 288-50
E-Mail: info@aisvalves.com
Internet: www.aisvalves.com